Checked on:
26 January 2023
Financial position
Below you will find a brief summary of the most important information about the financial position of Philips Pensioenfonds.
The actual funding ratio as at 31 December 2022 was 128.8%.
The policy funding ratio as at 31 December 2022 was 128.8%.
The assets returned -0.9% from 1 October to 31 December 2022.
The assets returned -24.7% from 1 January to 31 December 2022.
The value of the pension fund's assets at 31 December 2022 was € 17,486 million.
As of 31 December 2022, the pension liabilities were € 13,578 million.
How do I keep up to date with the financial situation at the Fund?

Every quarter we publish current information about the financial position of the Fund in the quarterly report. The quarterly report can be found on the Pension Fund's website. In addition, you will find a graph showing the current level of the funding ratio each month. It is updated halfway through each month.

When does the Pension Fund publish the monthly funding ratio?

The funding ratio of the previous month is always published on the website around the fifteenth day of the month. After publication, a Twitter message is sent (via @PhilipsPensioen).

The Dutch Bank (DNB) publishes details of individual pension funds on www.dnb.nl. Can I also find the data of Philips Pensioenfonds published by DNB on www.philipspensioenfonds.nl?

DNB publishes quarterly figures that are reported to DNB by the individual pension funds. Most of the information published by DNB can also be found on the Philips Pensioenfonds website. In the quarterly report of Philips Pensioenfonds you will find the policy funding ratio, the required funding ratio, the invested capital including the return on it. The so-called "premium coverage ratio" is published by Philips Pensioenfonds in its annual report. The quarterly reports and the annual report can be downloaded from www.philipspensioenfonds.nl/downloads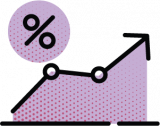 Indexation policy
We try to increase your pension every year. This is called 'indexation'. But indexation cannot be taken for granted. Do you want to know more about our indexation policy?
Go to Indexation policy