Organisational structure
Philips Pensioenfonds is the administrator of the pension plans for current and former employees of Philips, Signify and Versuni in the Netherlands. This involves administering pension rights and entitlements. We are also responsible for paying out pensions and investing and managing the pension fund's assets.
The work of Philips Pensioenfonds can be broken down into policy preparation and implementation, which are both explained on this information platform. You will also find information about the parties with which the pension fund has business relations.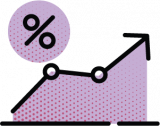 Indexation policy
We try to increase your pension every year. This is called 'indexation'. But indexation cannot be taken for granted. Do you want to know more about our indexation policy?
Go to indexation policy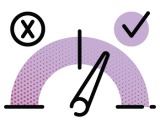 Influence of interest and return
With this model you get an idea how interest and return can influence the financial health of Philips Pensioenfonds.
Go to model