Disability
If you become sick and are incapable of working, it is possible that you will be declared wholly or partially disabled.
Although this is not a situation that anyone wants to consider, it is nevertheless helpful to know what the arrangements are if it happens to you. This page explains what arrangements are in place for your disability pension, what basic legal provisions are made, how disability will impact your further pension accrual and when you need to inform us of any changes in your situation.
Frequently asked questions
Would you like to know more?
If disability renders you incapable of working and your employment contract is terminated as a result, your pension accrual will continue, for both your retirement pension and your survivor's pension. If you become partially disabled, the accrual will continue proportionally.
Yes, you can. Your insurance premiums will be taken out of your disability pension.
Because you are still accruing pension if you are disabled, your partner is entitled to a survivor's pension after your death. Your partner must then be registered with Philips Pensioenfonds. The amount of the survivor's pension is based on the assumption that you would participate in the pension scheme until your retirement date.
We pay each month's pension on the first business day of that month. 
Philips Pensioenfonds seeks to increase your disability pension annually in accordance with the derived consumer price index published by Statistics Netherlands (CBS). At the end of March of every year, you will receive an annual statement showing the value of your pension and whether or not it will be increased that year. You can find out more under 'Indexation policy'.
If your disability percentage becomes less than 35%, your pension accrual will stop and you will no longer be paid a disability pension. You will have a non-contributory policy, which will start paying out when you reach retirement age.
Related information
Is the information below perhaps also interesting for you?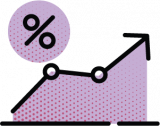 Indexation policy
We try to increase your pension each year with price inflation. This is called 'indexation'. Do you want to know more about this?
Page indexation policy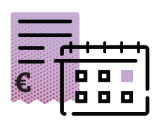 Payment dates
We pay your pension in advance on the 1st working day of the month. The day and time when your pension is credited to your account differs per bank.
Go to payment dates